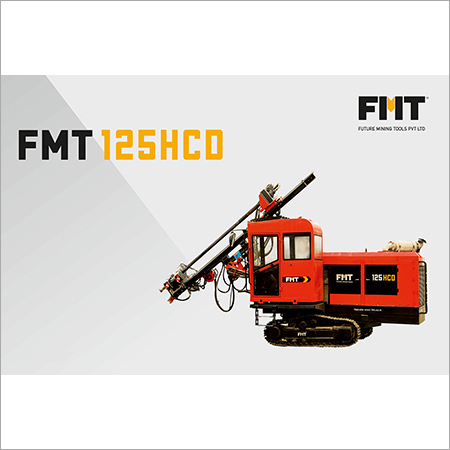 FMT 125 HCD Hydraulic Crawler Drill Machine
Product Description
The FMT 125HCD (Hydraulic Crawler Drill) is called the compactsolution, but this one-man operated drill rig, with its versatility, ruggedconstruction and superior technical features, will give unmatched performancefor most of your big jobs. It is ideal for blast-hole production drilling inquarries, or for surface mining or construction work. While the traction motorsand oscillation system provide excellent maneuverability in the toughestterrain.
Key Features 125 HCD


Ergonomically Designed, Operator Cabin and Control Console
Allows to carry out toe-hole drilling at step angles.
On board Compressor.Pressure is Productivity with 400 Cfm / 200 PSI compressor
Cabin Mounted with Joystick control for smooth trimming
High Penetration Rate and Low Drilling Cost
Hydraulic Feed / Rotation and Traction to add on the Drilling Rate
High ground clearance578 mm
Easy repair and maintenance with provision to access all control valves from outside of cabin
Hydraulic Track Oscillation to help negotiate the most uneven ground conditions
Fire safety
Road changer.
Water Injection
Emergency Stop Button, Large Rear Mirror, Music System, Toolbox and many more.
Technical Specification
Specification

Unit

Hole Size Range

102 - 140 mm / (41⁄2" - 51⁄2")

Max Hole Depth

20 m (66 feet)

Air Compressor Capacity (Other options on request)

400 cfm@200psi

Rotary Head Speed / Torque

80 rpm / (173kg.m)

​Tramming Speed

2.3 km/hr

Gradeability

30%

​Ground Clearance

550 mm

Operating Weight
(*Weight can vary based on optional features)

9000 kg - 11000 kg
Contact Us
off no 4-6, Aranyeshwar Park, Phase-2, Aranyeshwar Road, Ahmednagar Maharashtra India +918045478203
Phone :+918045478203